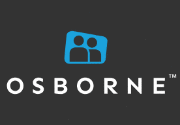 Recruitment Consultant - Toronto - Osborne
Toronto, ON
Experienced Recruitment Consultant
Osborne, is a well-known & recognised Recruitment Consultancy with HQ in Dublin, Ireland. We are a truly innovative firm and take a lot of pride and passion into providing excellent Permanent, Contract and Temporary Recruitment solutions to our clients. Osborne is a certified Great Place To Work, has won numerous Recruitment industry awards, we are active member of Business chambers and industry associations including SIA & ASA.

In 2018 Osborne Recruitment opened the doors to our Toronto office, for a number of years we have partnered with organisations in Canada providing excellent Recruitment Services, due to that success we felt it was time to open an office to support those relationships at a local level and develop some new ones in Toronto area. We are delighted to have achieved great success by Osbornes Toronto team, now we are in the next phase of our growth and would like to hire an additional Experienced Recruitment Consultant to join our team.


Our culture is Open honest communication, Trust, accountability and autonomy with a strong sense of team, joining our team an experienced Recruitment consultant will need to embrace the "Osborne Way", our ethos and values and our daily purpose Right person, Right job, No Compromise. We work smart and have lots of fun! J
Responsibility of this role will include
Partner with Osborne clients ensuring delivery of truly excellent Recruitment Solutions.
Develop and nurture your client relationships to understand their business requirements, become a key partner in the development of their teams.
Using modern sourcing strategies to find candidates for roles.
Matching candidates and clients to roles, in line with Osborne purpose
Achievement of Targets- Financial and non- financial on a weekly & monthly basis
Networking while building your network of Talent in the Toronto area.
Ensuring a quality service & a 5 star delivery to all our Clients & Candidate
Requirements for the role
Min of 3 Years Recruitment Experience in the Toronto market.
Be organised, with excellent client delivery, go the extra mile, be accountable for your personal performance, be curious, want to learn, confidence in your own ability.
Proactively seeking out new networks, new business, hunting to find the right candidate to ensure our quality standards are maintained
A genuine passion for providing a truly excellent Recruitment experience.
Strong PC skills
Social Media savvy
Remuneration
The salary offered will reflect the experience of the successful applicant.
Our Benefits package
Transparent uncapped upward scaling commission structure up to 20% on an annual basis.
Flexible benefits package ( You chose the option to meet your needs)
Mobile phone
Quarterly Uniform allowance
Your Birthday off!
Flexible working arrangements.
21 days' vacation days that increase by one day for each year of service
Engage in our 'Love to Learn' programme for professional qualifications such as MBA, Degree, Diploma, Certificates.
Opportunities to participate and/or lead internal projects.
Employee wellness programmes
A healthy work-life balance
Monthly & Quarterly competitions with great prizes.
100% Club
Quarterly company nights out / away.
Annual company weekend away
Supported by a Business Development Manager who seek out companies to win new business & an Internal Marketing department who help in the development of new business.
At Osborne We LOVE innovation, your opinion and ideas will always count and while you can learn from some of the best in the industry we will embrace your experience and fresh ideas too.
We have 6 offices and growing staff numbers we are truly on an incredible journey, would you like to be part of our team? I would be delighted to have a confidential conversation with you please contact me Ayesha Thompson

For details of all Osborne jobs please see www.osborne.ie

INDOS